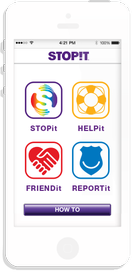 Dear Parents/Guardians,

As you know, the safety and protection of our children is a top priority in our Somerset Academy Eagle Campus Elementary, Middle and High Charter Schools. One area of growing concern is cyberbullying. Cyberbullying is bullying that takes place using electronic technology, such as cell phones, computers, and tablets as well as social media sites, text messages, chat, and websites. It's a pervasive phenomenon that is constantly changing, difficult for adults to get in front of and grossly under-reported by kids.

Monday, March 10th, we held an assembly to announce a new program to combat cyberbullying. As of March 2014, all Somerset scholars will have access to a mobile app called STOPit, which empowers children to easily – even anonymously – use their mobile devices to take a screen capture of offensive online posts or messages and send them to a trusted adult, the school cyberbully contact or the police. They will also have the ability to text or call a national crisis center 24/7.





How it Works:


Students go to iTunes or Google Play and download the free STOPit School Version app, apply their supplied code to activate STOPit on their device. Only one code per device is permitted so each student is provided 2 codes for use on 2 devices (i.e., smartphone and tablet).


Students input their trusted adults. School cyberbully contacts are already pre-loaded.


Incidents reported by students through the app will be instantly emailed to the adults of the student's choice. All messages sent to the school's cyberbully contacts will be dealt with swiftly and appropriately by the school.


This app, along with the steadfast support of our administrators, provides our kids with a safe environment to be courageous, to make a difference in their own lives and others, and to put an end to this devastating epidemic.

To learn more about STOPit, go to stopitcyberbully.com.
To learn more about cyberbullying, go to stopbullying.gov/cyberbullying.



Purposely Pursuing Excellence!

Denetra Davis

Principal
Somerset Eagle Campus Elementary, Middle & High Charter Schools